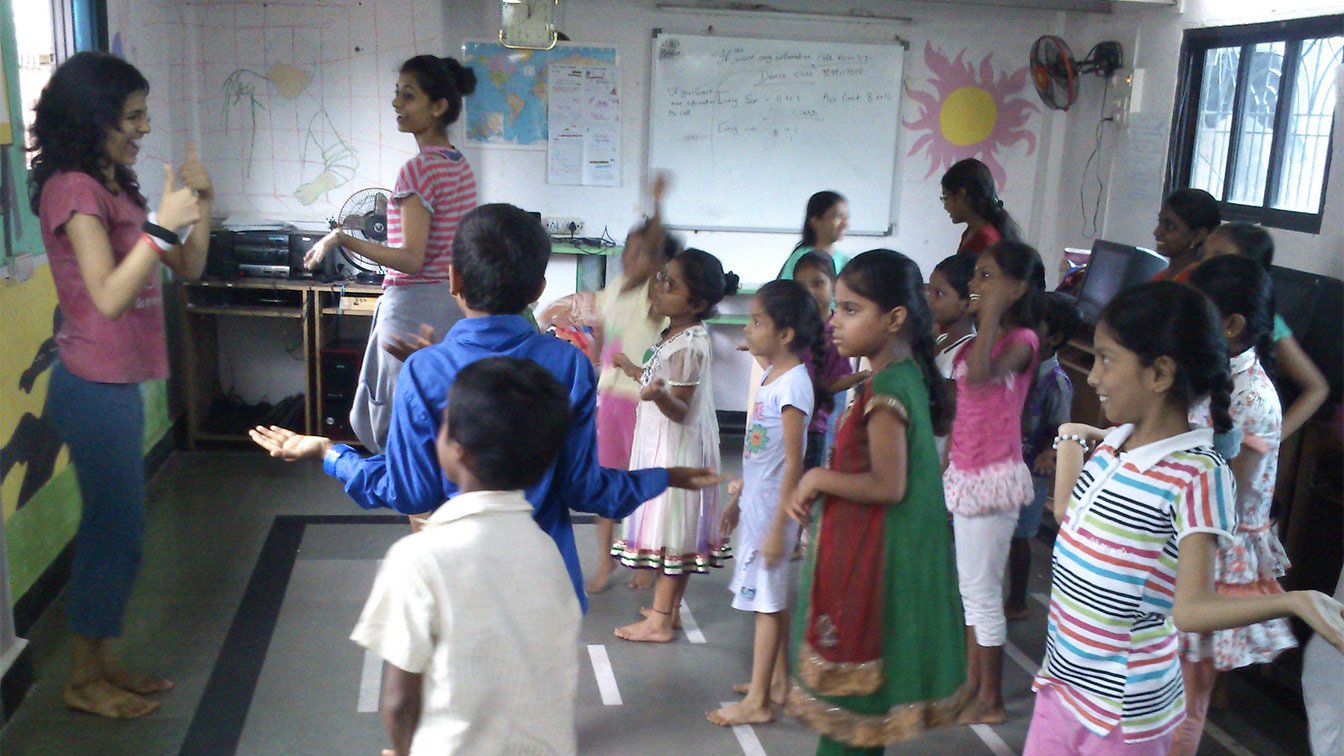 Dance Classes In The Community
It is a such a treat to witness the Reality Gives dance class on a Sunday morning. The Ashayen Community Centre is packed with more than forty enthusiastic dancers. Ranging in age from 3 -15, they have memorised lyrics and moves to the Steps song '5-6-7-8′ with impressive commitment and enthusiasm. Leading the way are Deshna and Sasi, volunteer dance teachers who trained at the Danceworx Mumbai. They are bursting with energy and full of creative ideas to put Dharavi's young dancers through their paces.
Originally led by Maria, a professional dance instructor, the Reality Gives dance program has been running for about one year. Maria has returned to the US to continue her studies, but Deshna and Sasi, who were already supporting Maria's classes, have now stepped into the breach.
"The students are really enthusiastic and they pick things up very quickly," Deshna says. "We didn't think they'd remember the dance from last week. We expected to reteach everything, but we'd put the lyrics on the board in the community centre, and when we arrived this morning it was clear the students had been learning and practising the song. They are really committed." And the popularity of the dance program is growing so much that it's now necessary to split the dancers into two groups. From this week, there will be a beginner group, in which the emphasis will be on consistency, discipline and basic positions, and an advanced class for the more experienced dancers.
Deshna and Sasi want to work on the dancers' posture, discipline and calm. They are trying to teach students to be more conscious of the rhythm of the music. "It is a new challenge for us" Sasi says. The two young instructors are used to teaching in English and so the mix of English, Hindi and Marathi they use in Dharavi is helping them learn new expressions and trial new teaching techniques.
The group is already very familiar with Bollywood music, so Deshna and Sasi hope to expose the growing number of young dancers to a range of dance styles. Deshna is a jazz dance specialist and Sasi's background is in ballet, and at the end of each session they show students a YouTube video of a different type of dancing to raise the students'
awareness.
Further down the line, Deshna and Sasi would like to arrange a chance for the students to perform to their families and the wider community. "We just need to build their confidence a little more," says Deshna.
There is also an exciting opportunity to offer talented young dancers a scholarship with the Danceworx in Bandra. Deshna and Sasi agree that dancing is a wonderful opportunity to get young people together – irrespective of their background – to learn and grow
together.
Article researched and written by Laura Hakimi, volunteer of Reality Gives on and off since 2012.